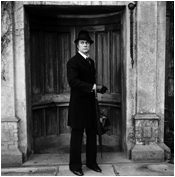 Tony Curtis outside "Greensleeves" during the production of the episode.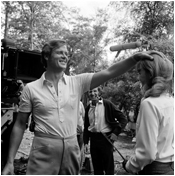 Roger Moore and Jennie Linden filming in Black Park on the episode To the Death, Baby.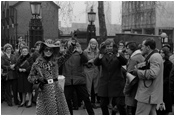 Roger Moore directing Anna Palk during the filming of The Time And The Place.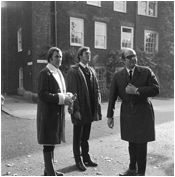 Director Sidney Hayers with Tony and Roger in New Square at the Lincoln's Inn during the filming of the episode Take Seven.


The Morning After has organised a number of events for subscribers during the clubs fifteen year history.
TMA Location Days
Tours of film locations used in The Persuaders! and other classic ITC series featured on the site. So far there have been ten tours, seven around central London and three around the Pinewood Studios area. The average attendance for a tour is around 20 - 25 people although one London tour attracted 35 people. Moving such a large number of people around the capital proved to be quite a challenge!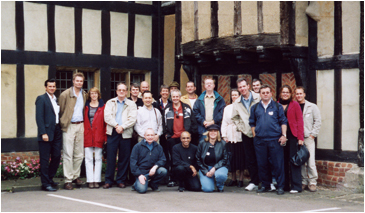 TMA members outside the entrance to "Greensleeves" during a Location Day tour of the Pinewood area

The Persuaders! - an exhibition of memorabilia
Held at the Department of Typography & Graphic Communication at the University of Reading in late 1997. TMA Honourary President Johnny Goodman came to a private view and there were two special Saturday openings for TMA members. Both were well attended with subscribers travelling from France, Italy, Germany, The Netherlands and far and wide from across the UK. Items on display included original scripts, ITC publicity material, cinema posters, lobby cards, novels, records and much more.

The Persuaders! 30th / TMA 10th Anniversary Party
Took place at Pages Bar in central London on the 15th September 2001. Guests included TMA Honourary Presidents Robert S. Baker and Johnny Goodman, Malcolm Christopher, Roy Ward Baker, Sue Lloyd, Frank Maher, Suzanna Leigh and Shane Rimmer. A phenomenal success with nearly 150 fans travelling from all over the UK and Europe to attend.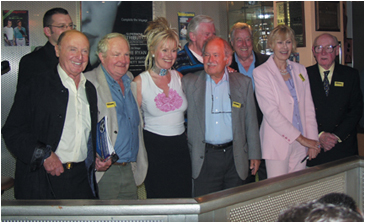 left to right: TMA Chairman Jaz Wiseman (partially hidden), Johnny Goodman, Shane Rimmer, Suzanna Leigh, Frank Maher (partially hidden), Robert S. Baker, Malcolm Christopher, Sue Lloyd and Roy Ward Baker.

For the sake of google, we have to write The Persuaders without the ! as most people don't use it when searching.