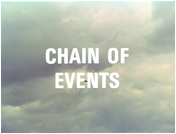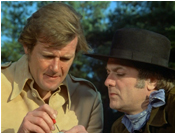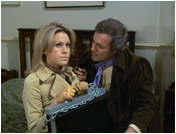 Cast
Tony Curtis
DANNY WILDE
Roger Moore
LORD BRETT SINCLAIR
Suzanna Leigh
EMILY MAJOR
Peter Vaughn
SCHUBERT
George Baker
BRITTEN
John Glyn-Jones
DR. HUBERT ROGERS
Morris Perry
BEECHAM-BENNETT
Neil Wilson
POLICE CONSTABLE
James Beckett
PREVIN
Jeremy Child
CARLTON
James Bree
BILL WILTON
Uncredited cast
Leon Eagles
PROFOKIEV
Gerry Crampton
BAXTER
Bob Simmonds
JEEP DRIVER
Terry Yorke
MAN WITH GUN IN WOODS
Peter Brace
SCHUBERT'S MAN 1
Rocky Taylor
SCHUBERT'S MAN 2

CHAIN OF EVENTS

Screenplay by TERRY NATION
Directed by PETER HUNT
"Make sure whoever has it has no one to turn to for help. Make him the loneliest, most friendless man in the world.."
UK TRANSMISSION DATES:
Thursday 25th November 1971 - GRANADA and ANGLIA - 8pm
Friday 26th November 1971 - ATV Midlands, HTV, LONDON, SOUTHERN and YORKSHIRE - 7.30pm

A camping holiday results in some explosive situations for Danny and Brett when Danny is chained to an attache case without knowing that it can blow him sky-high... and with several secret agents searching for him.
It's the open-air life for Lord Brett Sinclair (ROGER MOORE) and Danny Wilde (TONY CURTIS). The estate on which they are camping has been in Brett's family for generations, and he knows every inch of it. To Danny it's fresh territory.
While Brett is camping in utter luxury, Danny prefers it the primitive way. Not for him the deep freeze foods Brett is enjoying. This is why he goes fishing for his breakfast - with dire results. He is welcomed by a foreigner who introduces himself as Franz Schubert (PETER VAUGHAN) and addresses him as "Mr. Baxter". Obviously, a case of mistaken identity. Then a very beautiful girl - her name is Emily Major (SUZANNA LEIGH) - rushes through the trees calling for the mysterious Mr. Baxter.
Danny is next tapped on the head by a foot swinging from the limp body of a parachutist, Prokofiev (LEON EAGLES), caught up in a tree. He has an attache case strapped to his chest which, when Danny helps him down, he locks firmly to Danny's wrist... and then dies.
From this moment, Danny is a prisoner....of an attache case. The chain is of a hardened substance that can't be cut, the lock impenetrable. And there is no key.
Emily Major, who is an Intelligence agent, is told: "Recovery at all costs. All operatives are authorised to kill." Whatever the case contains, it is of vital importance. In charge of the operation for M.I.6 is the determined Britten (GEORGE BAKER), who is the first to take a pot shot at Danny, whom he believes may be an American free-lance agent working for C.I.A..
The police are alerted that a murderer answering to Danny's description is at large. The mysterious and menacing Franz Schubert is after him as well.
Danny hides in a derelict farm building where Brett finds him. Brett, with his knowledge of the estate, is able to help Danny elude his pursuers and get to a local doctor, who x-rays the case. It seems to contain some sort of electronic equipment, which Brett decides to take to an expert for analysis while Danny remains with the doctor (JOHN GLYN-JONES).
Danny's situation is acute when Emily Major finds him. Against her own better judgement, she is inclined to believe him when he says he has no idea what everyone is seeking him for, or what is in the case. She explains that the case contains top secret information bought from an agent named Baxter and it was on its way to the British Government. The key came over in a diplomatic pouch, which is at M.I.6. But she warns him not to tamper with the chain or the locks - the contents will automatically ignite. Which is not very comforting for Danny, who has been swinging the case around madly!
Brett is making the same discovery about the case's explosive potentiality and sets off on a hectic dash to try to save Danny, but Schubert gets there first. At the same time, after a message to M.I.6., the key is on its way.
But Danny is not in the clear yet...
--------------------------------------------------------------------
THE PERSUADERS!
DEVISED AND PRODUCED BY ROBERT S. BAKER
"The Persuaders!" theme by JOHN BARRY
Music composed and conducted by KEN THORNE
Musical Supervision by DON KIRSHNER
In charge of Production - JOHNNY GOODMAN
Story Consultant & Associate Producer - TERRY NATION
Co Story Consultant - MILTON S. GELMAN
Director of Photography - TONY SPRATLING
Production Manager - MALCOLM CHRISTOPHER
Art Director - HARRY POTTLE
Editor - PETER HUNT
Made on location and at Pinewood Studios, London, England.
Lord Sinclair's clothes designed by Roger Moore.
Assistant Director - PETER PRICE
Location Manager - ARNOLD ROSS
Camera Operator - JIMMY DEVIS
Set Dresser - KEN TAIT
Continuity - DORIS MARTIN
Production Secretary - ANN M. PATERSON
Sound Recordist - CLAUDE HITCHCOCK
Dubbing Editor - JIM SIBLEY G.B.F.E.
Dubbing Mixer - TED KARNON
Music Editor - DEVERIL GOODMAN
Make-Up - GERRY FLETCHER
Hairdressing - MIKE JONES
Wardrobe Supervisor - JOHNNY BRIGGS
A TELEVISION REPORTERS INTERNATIONAL
TRIBUNE PRODUCTION
for ITC WORLD WIDE DISTRIBUTION
© INCORPORATED TELEVISION CO. LTD MCMLXX