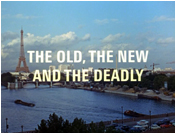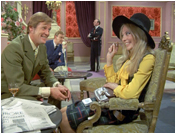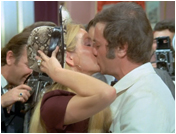 Cast
Tony Curtis
DANNY WILDE
Roger Moore
LORD BRETT SINCLAIR
Anna Gael
SUZY WAGER
Derren Nesbitt
GROSKI
Kenneth J. Warren
VERNER
Juliet Harmer
PRUE
Patrick Troughton
LE COMTE MARCEAU
Gary Cockrell
FRANK WAGER
Jasmina Hilton
SERENA
Frederick Jaeger
LUTHER
Michael Segal
DENTON
Michael Anthony
HOTEL DESK CLERK
Uncredited cast
Les White
GROSKI'S MAN AT THE TOP OF THE STAIRS IN CLUB
Michael Finbar
MAN DEVELOPING PHOTO

THE OLD, THE NEW AND THE DEADLY

Screenplay by BRIAN CLEMENS
Directed by LESLIE NORMAN
"Show him we are still dangerous, Verner."
UK TRANSMISSION DATES:
Thursday 11th November 1971 - GRANADA and ANGLIA - 8pm
Friday 12th November 1971 - ATV Midlands, HTV, LONDON, SOUTHERN and YORKSHIRE - 7.30pm

A fanatical ex-Nazi, a girl who is trying to clear her father's name of a wartime stigma and the statuette of a bird combine to put Danny's life in peril.
There are startling repercussions for the unfortunate Danny Wilde (TONY CURTIS) when he spots the glamourous Suzanne Wager (ANNA GAEL) with her newly-wed husband Frank (GARY COCKRELL). He collides with a man named Denton (MICHAEL SEGAL) whose despatch case falls to the hotel floor and bursts open. A newspaper picture being taken at the time shows him picking up a statuette of a German eagle.
The newspaper photograph is of great interest to an aged Frenchman, Le Comte Marceau (PATRICK TROUGHTON) a fanatical ex-Nazi who shifted his own guilt on to Suzanne Wager's father, whose name now has the stigma of having collaborated with the Nazis.
The photograph is Danny's execution warrant. Marceau orders, in the belief that he is the possessor of the statuette: "I want him dead." And one attempt after another is made on Danny's life, each time foiled by the alertness of Brett Sinclair (ROGER MOORE).
In the meantime, Suzy has been approached by Denton who tells her that he will sell her evidence which will clear her father's name. Suzy rebels at having to ask her husband for so much money, and appeals to Danny for advice. Unfortunately, her husband jealously (and with a thump on Danny's jaw) breaks up the conversation before she has managed to tell him much.
The thwarted Marceau then hires another killer, Groski (DERREN NESBITT), who 'phones Danny with the warning that the attempts on his life have not ended but has a proposition to make. The two men meet up with Brett nearby. It then becomes obvious that the lines are getting crossed. Danny has no idea what Groski is talking about when he says he wishes to buy the statuette. Once again, Brett is able to help Danny out of his latest predicament, and they now know that the statuette is the key to the mystery.
Close examination of the original newspaper photograph shows an address on some headed notepaper that had fallen out of the suitcase. Danny and Brett lose no time in making for the address, and arrive to find that Suzy has been lured there. But they are too late. Denton has been killed and the statuette is missing.
They have only one clue to work on. Brett has spotted a very old Rolls Royce several times. It provides the much-needed common factor. Once they can trace the owner, they can find the man responsible for the murder attempts on Danny and his reasons for them - and also the evidence Suzy has been seeking to clear her father's name.
--------------------------------------------------------------------
THE PERSUADERS!
DEVISED AND PRODUCED BY ROBERT S. BAKER
"The Persuaders!" theme by JOHN BARRY
Music composed and conducted by KEN THORNE
Musical Supervision by DON KIRSHNER
In charge of Production - JOHNNY GOODMAN
Story Consultant & Associate Producer - TERRY NATION
Co Story Consultant - MILTON S. GELMAN
Director of Photography - TONY SPRATLING
Production Manager - MALCOLM CHRISTOPHER
Art Director - HARRY POTTLE
Editor - DEREK HYDE CHAMBERS
Made on location and at Pinewood Studios, London, England.
Lord Sinclair's clothes designed by Roger Moore.
Assistant Director - PETER PRICE
Location Manager - ARNOLD ROSS
Camera Operator - JIMMY DEVIS
Set Dresser - KEN TAIT
Continuity - DORIS MARTIN
Production Secretary - ANN M. PATERSON
Sound Recordist - CLAUDE HITCHCOCK
Dubbing Editor - JIM SIBLEY G.B.F.E.
Dubbing Mixer - TED KARNON
Music Editor - DEVERIL GOODMAN
Make-Up - GERRY FLETCHER
Hairdressing - MIKE JONES
Wardrobe Supervisor - JOHNNY BRIGGS
A TELEVISION REPORTERS INTERNATIONAL
TRIBUNE PRODUCTION
for ITC WORLD WIDE DISTRIBUTION
© INCORPORATED TELEVISION CO. LTD MCMLXX