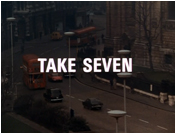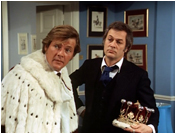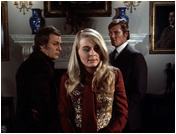 Cast
Tony Curtis
DANNY WILDE
Roger Moore
LORD BRETT SINCLAIR
Laurence Naismith
JUDGE FULTON
Sinead Cusack
JENNY LINDLEY
Christian Roberts
MARK LINDLEY
Sue Lloyd
MAGGIE
Victor Platt
THE FARMER
Garfield Morgan
PETER HAYWARD
Richard Hurndall
DAVID CONRON
John Kelland
HARVESTER
Veronica Hurst
THE SECRETARY
Julie Crosthwait
MANDY
Colin Vancao
THE MAJOR
Uncredited cast
Eddie Malin
JUDGE FULTON'S BARBER

TAKE SEVEN

Screenplay by TERRY NATION
Directed by SIDNEY HAYERS
"alive, Jenny. You're going to find out I'm very much alive."
UK TRANSMISSION DATES:
Thursday 30th September 1971 - GRANADA and ANGLIA - 8pm
Friday 1st October 1971 - ATV Midlands, HTV, LONDON, SOUTHERN and YORKSHIRE - 7.30pm

Real or fake? Danny and Brett find it explosively dangerous when trying to help a girl whose long-missing brother apparently has a rightful claim to the estate she has inherited. The outcome is surprising.
The legal verdict is clear. Mark Lindley (CHRISTIAN ROBERTS) is the man he claims to be - the long-missing brother of Jenny Lindley (SINEAD CUSACK), who has inherited the wealthy Lindley estate left a number of years back on the death of her parents. Now she has nothing. Under the terms of the will, Mark is the sole legatee.
Judge Fulton (LAURENCE NAISMITH) is not so sure, though, that the verdict is right. He believes Jenny when she says her brother is dead. Is Mark real or fake? His own story is undoubtedly convincing. And when Danny Wilde (TONY CURTIS) and Brett Sinclair (ROGER MOORE) are persuaded by the Judge to investigate, they are also inclined to side with the attractive Jenny - much to their discomfort, as they soon discover when they meet her and shots are fired through the window at them.
Mark, it seems, is ready to use violence to protect his interests. Yet he has a cast-iron alibi for the night of the shooting. Taking it from there, Danny and Brett seek the assistance of a contact known as The Farmer (VICTOR PLATT), who first of all warns them that they are being followed by a private eye named Peter Hayward (GARFIELD MORGAN) and later takes them to the house occupied by the man they are seeking, a professional killer called "The Major" (COLIN VANCAO). They come close to being his next victim (sic) - then, without warning, he topples forward dead, shot in the back.
Jenny's lawyer David Conron (RICHARD HURNDALL) is the next link in the chain when he 'phones a message to Brett asking him to go to a farm. The farmer is a nephew of the Lindley's former nurse and he has his diary, and although an attempt is made to kill Conron and destroy the diary, it fails.
Meanwhile, Danny has discovered that Jenny has gone to Mark's apartment. He gets this message through to Brett, and both make for the house to find Mark and Jenny engaged in a cat-and-mouse game of murder. By now, Brett knows the truth. The secret has been revealed in the nurse's diary.
But can he and Danny prevent another murder? They also have some reckoning to do with the double-crossing private detective, Peter Hayward.
--------------------------------------------------------------------
THE PERSUADERS!
DEVISED AND PRODUCED BY ROBERT S. BAKER
"The Persuaders!" theme by JOHN BARRY
Music composed and conducted by KEN THORNE
Musical Supervision by DON KIRSHNER
In charge of Production - JOHNNY GOODMAN
Story Consultant & Associate Producer - TERRY NATION
Co Story Consultant - MILTON S. GELMAN
Director of Photography - TONY SPRATLING
Production Manager - MALCOLM CHRISTOPHER
Art Director - HARRY POTTLE
Editor - PETER PITT G.B.F.E.
Made on location and at Pinewood Studios, London, England.
Lord Sinclair's clothes designed by Roger Moore.
Assistant Director - PETER PRICE
Location Manager - ARNOLD ROSS
Camera Operator - JIMMY DEVIS
Set Dresser - KEN TAIT
Continuity - DORIS MARTIN
Production Secretary - ANN M. PATERSON
Sound Recordist - CLAUDE HITCHCOCK
Dubbing Editor - JIM SIBLEY G.B.F.E.
Dubbing Mixer - TED KARNON
Music Editor - DEVERIL GOODMAN
Make-Up - GERRY FLETCHER
Hairdressing - MIKE JONES
Wardrobe Supervisor - JOHNNY BRIGGS
A TELEVISION REPORTERS INTERNATIONAL
TRIBUNE PRODUCTION
for ITC WORLD WIDE DISTRIBUTION
© INCORPORATED TELEVISION CO. LTD MCMLXX