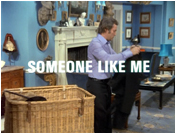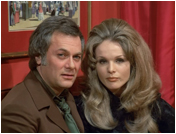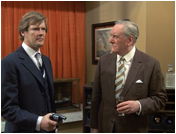 Cast
Tony Curtis
DANNY WILDE
Roger Moore
LORD BRETT SINCLAIR
Reginald Marsh
DR. FOWLER
Anne de Vigier
NURSE CRANE
Bernard Lee
SAM MILFORD
Joanne Dainton
MISS LINDSAY
Jeremy Burnham
SCOTT MASKELL
Tony Wright
DAVID ALTON
Gerald Sim
DR. GORDON
Johnny Briggs
CHARLIE
Vivien Neves
DANNY'S GIRL
Diana Terry
BRETT'S GIRL
Uncredited cast
Derek Cox
MILFORD'S BODYGUARD 1
Gerry Crampton
MILFORD'S BODYGUARD 2

SOMEONE LIKE ME

Screenplay by TERRY NATION
Directed by ROY WARD BAKER
"Now he never moves without a regiment of bodyguards... he's better protected than Fort Knox."
UK TRANSMISSION DATES:
Thursday 28th October 1971 - GRANADA and ANGLIA - 8pm
Friday 29th October 1971 - ATV Midlands, HTV, LONDON, SOUTHERN and YORKSHIRE - 7.30pm

Who is masquerading as Brett Sinclair? And why? Danny has every reason for probing the mystery because he is at the receiving end of the "new" Brett's thrusts. The difficulty is to discover which is the real and which is the fake - or if they are one and the same!
Lord Brett Sinclair (ROGER MOORE) has to come to a stop when the road ahead is blocked by a car. As he does so, he hears a woman's voice calling for help. Running into the woods, he finds a girl sobbing, but as he bends over her she laughs and he is knocked unconscious from behind. The girl, though he doesn't learn this for sometime, is a Miss Lindsay (JOANNE DAINTON).
The next thing Brett knows is that he is lying in a hospital bed, head bandaged, arm in a sling, leg bound up, but with one compensation, a very pretty nurse named Sally Crane (ANNE DIVIGIER). Examining him is a Dr. Fowler (REGINALD MARSH).
Eventually, impatient at not receiving an answer when he presses the bedside buzzer, Brett gets up to investigate. Rushing from the room, he finds that the "hospital" is a derelict old building, which he manages to identify from an estate agent's notice outside. But he is unable to escape. A man named Maskell (JEREMY BURNHAM) knocks him out.
When he next recovers consciousness, Brett is in his own car, outside his own apartment, and with no sign of any injuries! Furthermore, Danny tells him that seven days have passed since he heard the cry in the woods.
The mystery deepens when Danny finds that the house has been burned down, and deepens still further when Brett learns that someone has been impersonating him.
Danny Wilde (TONY CURTIS) is puzzled by Brett's behaviour and finds it hard to believe his story. There is a dramatic development when Danny goes to a club with a girl and suddenly spots Brett there, although he had said he was going to remain at home and rest. Brett is acting oddly, and subsequently the men fight and Danny is almost killed. Yet later, Brett has no recollection whatever of any such incident. He is genuinely amazed. It seems certain now that he has a double, but Danny is quite sure that the man he had fought was Brett.
A letter to Brett from millionaire Sam Milford (BERNARD LEE) provides a clue. He is getting into town that day and wants Brett to call on him - and Brett is one of the very few men able to reach him. A double for Brett could therefore do so...and there have already been several attempts to kill Milford.
But Danny is now completely certain that the man he fought the previous night was Brett. Something happened to him during those seven lost days. There is no double. If somebody had been primed to kill Milford, it is Brett!
What is the secret? Is there a key phrase or word which will act on Brett like a switch? If so, is there any way to prevent his being triggered off to murder Sam Milford?
--------------------------------------------------------------------
THE PERSUADERS!
DEVISED AND PRODUCED BY ROBERT S. BAKER
"The Persuaders!" theme by JOHN BARRY
Music composed and conducted by KEN THORNE
Musical Supervision by DON KIRSHNER
In charge of Production - JOHNNY GOODMAN
Story Consultant & Associate Producer - TERRY NATION
Co Story Consultant - MILTON S. GELMAN
Director of Photography - TONY SPRATLING
Production Manager - MALCOLM CHRISTOPHER
Art Director - HARRY POTTLE
Editor - BERT RULE G.B.F.E.
Made on location and at Pinewood Studios, London, England.
Lord Sinclair's clothes designed by Roger Moore.
Assistant Director - PETER PRICE
Location Manager - ARNOLD ROSS
Camera Operator - JIMMY DEVIS
Set Dresser - KEN TAIT
Continuity - DORIS MARTIN
Production Secretary - ANN M. PATERSON
Sound Recordist - CLAUDE HITCHCOCK
Dubbing Editor - JIM SIBLEY G.B.F.E.
Dubbing Mixer - TED KARNON
Music Editor - DEVERIL GOODMAN
Make-Up - GERRY FLETCHER
Hairdressing - MIKE JONES
Wardrobe Supervisor - JOHNNY BRIGGS
A TELEVISION REPORTERS INTERNATIONAL
TRIBUNE PRODUCTION
for ITC WORLD WIDE DISTRIBUTION
© INCORPORATED TELEVISION CO. LTD MCMLXX