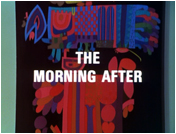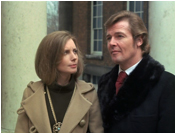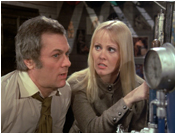 Cast
Tony Curtis
DANNY WILDE
Roger Moore
LORD BRETT SINCLAIR
Laurence Naismith
JUDGE FULTON
Catherine Schell
KRISTIN
Tony Bonner
JON
Yutte Stensgaard
BIBI BERGMAN
Bernard Horsfall
CHRISTIANSON
Griffith Jones
LARS SEELMAN
Frank Gatliff
ANDERSON
Penny Sugg
LIV
Walter Horsburgh
THE BUTLER
Marianne Stone
THE CHAMBERMAID
Uncredited cast
David Johns
SWEDISH POLICEMAN 1
Doug Robinson
CHRISTIANSON'S HEAVY 1
Terry Walsh
CHRISTIANSON'S HEAVY 2

THE MORNING AFTER

Screenplay by WALTER BLACK
Directed by LESLIE NORMAN
"I rather enjoyed being Lady Sinclair, while it lasted."
UK TRANSMISSION DATES:
Thursday 21st January 1972 - GRANADA and ANGLIA - 8pm
Friday 22nd January 1972 - ATV Midlands, HTV, LONDON, SOUTHERN and YORKSHIRE - 7.30pm

Wed at last! Brett Sinclair awakens after a heavy drinking party to find that he has a wife. A glamorously beautiful one, too. But is the marriage genuine, or has he been tricked?
If there is one thing worse than to wake up after a party with a headache, it is to find that you have acquired a wife. It happens to Lord Brett Sinclair (ROGER MOORE) when, in the midst of nursing a hangover in a Stockholm hotel, a beautiful Swedish blonde named Kristin (CATHERINE SCHELL) comes out of the bedroom and introduces herself to Danny Wilde (TONY CURTIS) as Lady Sinclair.
Brett remembers her being at the party, and he has known her for several weeks, but he certainly doesn't remember marrying her. Danny suggests that he is probably the victim of a trick, but there is the evidence of a marriage licence and confirmation from the Registrar that the marriage really did take place.
Accepting the situation, Brett accuses Kristin of being a confidence trickster and asks how much she wants to settle. To his astonishment, her reaction is to say that she will have the marriage annulled immediately - and it won't cost him a penny. Brett is conscience-stricken. This seems even more conclusive evidence that the only thing she wants is to be his wife.
Danny is more suspicious, though. He traces the two people whose names are on the marriage certificate as witnesses. They are Bibi Berrgmann (YUTTE STENSGAARD), who works as a judo instructress at a Keep Fit club run by the other witness, Christianson (BERNARD HORSFALL). He is convinced that Bibi is not involved in any plot; but he is not so certain about Christianson, and events prove that his suspicions are justified when he searches Christianson's office and finds a photograph of a Scandinavian diplomat named Lars Seelman (GRIFFITH JONES). The mystery has something to do with Seelman, but before Danny can do anything further he and Bibi are trapped.
Meanwhile, Brett has returned to England with his bride. Judge Fulton (LAURENCE NAISMITH) has asked him to hurry back because he wants him to entertain a very special guest who is in England for an important conference......Lars Seelman!
The arrival of a man whom Kristin introduces as her brother Jon (TONY BONNER) is the next step in the drama which reveals the political motivations behind Brett being tricked into marriage. But Kristin is now torn between her scheming ambitions and attachment to Brett. The climax is reached when Seelman is abducted just before Danny, having escaped, gets back to England with information that enables him to help Brett find Seelman. and, in doing so, settle once and for all whether or not Brett will have a wife by his side in the future.
--------------------------------------------------------------------
THE PERSUADERS!
DEVISED AND PRODUCED BY ROBERT S. BAKER
"The Persuaders!" theme by JOHN BARRY
Music composed and conducted by KEN THORNE
Musical Supervision by DON KIRSHNER
In charge of Production - JOHNNY GOODMAN
Story Consultant & Associate Producer - TERRY NATION
Co Story Consultant - Walter Black
Director of Photography - TONY SPRATLING
Production Manager - MALCOLM CHRISTOPHER
Art Director - HARRY POTTLE
Editor - PETER PITT G.B.F.E.
Made on location and at Pinewood Studios, London, England.
Lord Sinclair's clothes designed by Roger Moore.
Assistant Director - PETER PRICE
Location Manager - ARNOLD ROSS
Camera Operator - JIMMY DEVIS
Set Dresser - KEN TAIT
Continuity - DORIS MARTIN
Production Secretary - ANN M. PATERSON
Sound Recordist - CLAUDE HITCHCOCK
Dubbing Editor - JIM SIBLEY G.B.F.E.
Dubbing Mixer - TED KARNON
Music Editor - DEVERIL GOODMAN
Make-Up - GERRY FLETCHER
Hairdressing - MIKE JONES
Wardrobe Supervisor - JOHNNY BRIGGS
A TELEVISION REPORTERS INTERNATIONAL
TRIBUNE PRODUCTION
for ITC WORLD WIDE DISTRIBUTION
© INCORPORATED TELEVISION CO. LTD MCMLXX