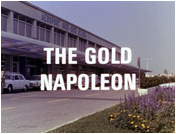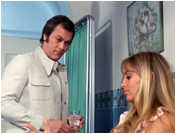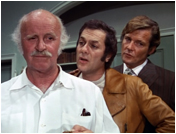 Cast
Tony Curtis
DANNY WILDE
Roger Moore
LORD BRETT SINCLAIR
Laurence Naismith
JUDGE FULTON
Susan George
MICHELLE DEVIGNE
Alfred Marks
PULLICINO
Harold Goldblatt
DEVIGNE
Michael McStay
VERNIER
Hugh Manning
CHIEF OF POLICE
Charles Houston
JACOBY
Balbina
SISTER
Hugo De Vernier
HOSPITAL PORTER
Jean Driant
DOUANE
Uncredited cast
Frankie Darling
DOUBLE FOR SUSAN GEORGE
Jan-Michael Vincent
HELICOPTER PILOT
Neville Barber
AIRPORT SECURITY GUARD
Andrée Flamand
DAY NURSE
Chloe Franks
MARIA
Paul Armstrong
FOUNDARY FOREMAN
Bill Reid
PULLICINO'S HEAVY 1
John Sullivan
PULLICINO'S HEAVY 2

THE GOLD NAPOLEON

Screenplay by VAL GUEST
Directed by ROY WARD BAKER
"Oh indeed it is your problem. I think that bullet was meant for you."
UK TRANSMISSION DATES:
Thursday 23rd September 1971 - GRANADA and ANGLIA - 8pm
Friday 24th September 1971 - ATV Midlands, HTV, LONDON, SOUTHERN and YORKSHIRE - 7.30pm

All that glitters may not be gold - but the question for Danny and Brett is whether there's glitter beneath the bronze of Napoleon coin replicas.
Who was the intended victim - Danny Wilde (TONY CURTIS) or the pretty blonde Michelle Devigne (SUSAN GEORGE) standing by his side at Nice Airport?
Danny can't believe the bullet was for him. Michelle is certain that it was not for her - or so she says. Whoever fired the shot has wounded her sufficiently for her to be taken to hospital.
Brett Sinclair (ROGER MOORE) expresses the option that the shot was meant for Danny, but Judge Fulton (LAURENCE NAISMITH) disagrees. A newspaper cutting explains why: "Mdlle Devigne, who lives with her uncle, one of Monte Carlo's most exclusive jewellers, had been voted the most talented student at the Valouris Art Centre before her sudden decision to continue her studies in London."
Fulton wants to know why she should have made this sudden decision. He links this up with the fact that her uncle deals in gold, specialising in gold coins, medals and plaques and that it is on record that he sold a gold Napoleon 100 franc piece which turned out to be counterfeit.
Is it a coincidence that, while at the airport, Michelle dropped her belongings, among them an ink portrait of Napoleon III, encircled as though on a coin?
Fulton produces a similar coin - literally worth its weight in gold. Hundreds of them have appeared periodically in Paris, Rome, Geneva and Beirut, which could be a good way of unloading gold bullion.
This, in fact, provides the moment of truth for Michelle when her uncle, Monsieur Devigne (HAROLD GOLDBLATT) visits her in hospital and she challenges him: "Those moulds I made of the Napoleon coin were not for bronze replicas." Her uncle tells her he had no choice: he is in the hands of a ruthless syndicate. And it is because she has visited the foundry and has been seen running away that an attempt was made to kill her.
Devigne taxes the syndicate boss, Pullicino (ALFRED MARKS) with this, but is told that everything will be all right so long as Michelle keeps her mouth shut. This is a critical moment. Two-and-a-half million dollars worth of gold are about to be moved through Devigne's "imitation" coins.
Later, a quarrel between Devigne and Pullicino is to lead to Devigne's murder, which means that Pullicino no longer has control over Michelle. Once again, he orders that she must be silenced.
The death sentence is also passed on Danny when he breaks into the foundry and discovers the truth, but he and Michelle escape their fate and, with Brett, set out on the dramatic chase to prevent the gold getting across the border into Italy. It's a chase with hazards in every bend of the winding roads and unexpected drama just as triumph appears to be in their hands.
--------------------------------------------------------------------
THE PERSUADERS!
DEVISED AND PRODUCED BY ROBERT S. BAKER
"The Persuaders!" theme by JOHN BARRY
Music composed and conducted by KEN THORNE
Musical Supervision by DON KIRSHNER
In charge of Production - JOHNNY GOODMAN
Story Consultant & Associate Producer - TERRY NATION
Co Story Consultant - MILTON S. GELMAN
Director of Photography - TONY SPRATLING
Production Manager - MALCOLM CHRISTOPHER
Art Director - CHARLES BISHOP
Editor - DEREK HYDE CHAMBERS
Made on location and at Pinewood Studios, London, England.
Lord Sinclair's clothes designed by Roger Moore.
Assistant Director - PETER PRICE
Location Manager - ARNOLD ROSS
Camera Operator - JIMMY DEVIS
Set Dresser - KEN TAIT
Continuity - DORIS MARTIN
Production Secretary - ANN M. PATERSON
Sound Recordist - CLAUDE HITCHCOCK
Dubbing Editor - JIM SIBLEY G.B.F.E.
Dubbing Mixer - TED KARNON
Music Editor - DEVERIL GOODMAN
Make-Up - GERRY FLETCHER
Hairdressing - MIKE JONES
Wardrobe Supervisor - JOHNNY BRIGGS
A TELEVISION REPORTERS INTERNATIONAL
TRIBUNE PRODUCTION
for ITC WORLD WIDE DISTRIBUTION
© INCORPORATED TELEVISION CO. LTD MCMLXX