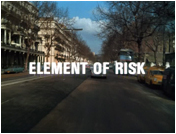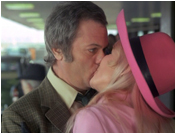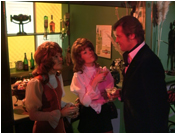 Cast
Tony Curtis
DANNY WILDE
Roger Moore
LORD BRETT SINCLAIR
Laurence Naismith
JUDGE FULTON
June Ritchie
CHARLIE
Peter Bowles
MITCHELL
William Marlowe
CARL HARRIS
Shane Rimmer
HARVEY LOMAX
J.M. Bay
ANDERSON
Keren Kessey
JOAN
Katherine Kessey
JEAN
Victor Platt
THE FARMER
Bob Sherman
THE LIEUTENANT
David Healy
COLONEL ADLER
Anthony Doonan
GRANT
James Cosmo
INSPECTOR WILLIAMS
Margaret Nolan
SOPHIE
Carol Cleveland
GIRL AT AIRPORT
Michael Sloan
RADIO OPERATOR
George Fisher
GEORGE KRAMER
Uncredited cast
Terry Yorke
PLAINCLOTHES POLICEMAN AT AIRPORT 1
Bill Herbert
UNIFORM POLICEMAN
Dennis Plenty
PLAINCLOTHES POLICEMAN

ELEMENT OF RISK

Screenplay by TONY BARWICK
Directed by GERALD MAYER
"...I'm Lomax. Believe me if I tell you - I'm Mr Lomax."
UK TRANSMISSION DATES:
Thursday 24th December 1971 - GRANADA and ANGLIA - 8pm
Friday 25th December 1971 - ATV Midlands, HTV, LONDON, SOUTHERN and YORKSHIRE - 7.30pm

An unfortunate case of mistaken identity for Danny Wilde. He is believed to be an undisputed master-mind of crime. A planner of true genius' And his life depends on his being able to live up to it!
Lomax (SHANE RIMMER) is one of America's master crooks, a fact which is not unknown to the British Security authorities. Not surprisingly, they want to know why he is arriving in England. But Lomax has not risen so high in his profession for nothing and he is alert enough to spot trouble ahead when he lands at London Airport. He takes the immediate precaution of dropping the distinctive case he is carrying into another passenger's luggage trolley.
Danny Wilde (TONY CURTIS) is unlucky enough to be the other passenger. As Lomax is led off by Security, Danny is approached by a very attractive girl whose name, he discovers a little later and somewhat surprisingly, is Charlie (JUNE RITCHIE). She greets him with an enthusiastic kiss and urges him into a waiting car. Down the road, another passenger joins them. He is Carl Harris (WILLIAM MARLOWE).
Danny then discovers that the case in his trolley has identified him as Lomax. Even worse, unless he plays along with being Lomax things are going to be just too bad for him.
Taken to a luxurious penthouse, he learns more from a man named Mitchell (PETER BOWLES) who is obviously the top man in whatever the racket is. It is Mitchell who toasts him as "The undisputed master-mind of crime... a planner of true genius!" Danny is horrified, especially when he discovers that Lomax has been brought to England to master-mind a colossal crime. Bluffing desperately, he leads Mitchell into explaining what is happening and by degrees unearths the fact that a huge bullion robbery is being planned - bullion being brought in by the U.S. Air Force.
Meanwhile, Lord Brett Sinclair (ROGER MOORE) is worried because Danny has failed to keep a date to meet a couple of glamorous girls (KATERINE KESSEY and KAREN KESSEY), and that's unlike Danny. Thanks to help from Judge Fulton (LAURENCE NAISMITH), he learns about Lomax. One clue after another puts him on the trail. The fact that the gang have to kill a man who was to have been their get-away pilot gives Brett the opportunity to masquerade as a substitute pilot. In this way, he and Danny find themselves together again.
Unfortunately for Danny, Carl is already suspicious about his identity. Even more unfortunately, Lomax succeeds in escaping. The game is up, but the gang find it expedient to make use of both Danny and Brett in helping them carry out the audacious robbery.
Their lives are in acute danger and are not likely to be worth a penny afterwards, anyway. Fickle fortune, however, has decreed that Danny should appeal so much to Charlie that she can't bear the idea of her colleagues killing him...
--------------------------------------------------------------------
THE PERSUADERS!
DEVISED AND PRODUCED BY ROBERT S. BAKER
"The Persuaders!" theme by JOHN BARRY
Music composed and conducted by KEN THORNE
Musical Supervision by DON KIRSHNER
In charge of Production - JOHNNY GOODMAN
Story Consultant & Associate Producer - TERRY NATION
Director of Photography - TONY SPRATLING
Production Manager - MALCOLM CHRISTOPHER
Art Director - HARRY POTTLE
Editor - BERT RULE G.B.F.E.
Made on location and at Pinewood Studios, London, England.
Lord Sinclair's clothes designed by Roger Moore.
Assistant Director - PETER PRICE
Location Manager - ARNOLD ROSS
Camera Operator - JIMMY DEVIS
Set Dresser - KEN TAIT
Continuity - DORIS MARTIN
Production Secretary - ANN M. PATERSON
Sound Recordist - CLAUDE HITCHCOCK
Dubbing Editor - JIM SIBLEY G.B.F.E.
Dubbing Mixer - TED KARNON
Music Editor - DEVERIL GOODMAN
Make-Up - GERRY FLETCHER
Hairdressing - MIKE JONES
Wardrobe Supervisor - JOHNNY BRIGGS
A TELEVISION REPORTERS INTERNATIONAL
TRIBUNE PRODUCTION
for ITC WORLD WIDE DISTRIBUTION
© INCORPORATED TELEVISION CO. LTD MCMLXXI