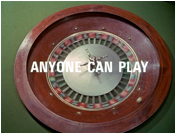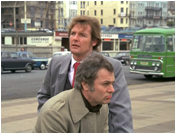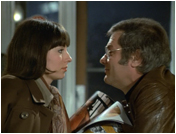 Cast
Tony Curtis
DANNY WILDE
Roger Moore
LORD BRETT SINCLAIR
Cyd Hayman
LYN
Dudley Foster
HEATHER
Ed Devereaux
RYKER
Richard Vernon
SIR MAXWELL DEAN
Tim Goodman
WEBSTER
Patrick Jordan
PELLI
Patrick Connor
TRAIN GUARD
Christopher Coll
LONDON AGENT
Graham Weston
NORTHERN AGENT
Peter Forbes-Robertson
INSPECTOR LANGFORD
Kit Taylor
CROUPIER
Uncredited cast
Jack Arrow
CASINO RECEPTIONIST
Paddy Ryan
FIRST AGENT ON TRAIN
Terry Richards
LAST AGENT ON TRAIN

ANYONE CAN PLAY

Screenplay by TONY WILLIAMSON
Directed by LESLIE NORMAN
"I don't need luck. I got a system. I play all the odd red numbers."
UK TRANSMISSION DATES:
Thursday 4th November 1971 - GRANADA and ANGLIA - 8pm
Friday 5th November 1971 - ATV Midlands, HTV, LONDON, SOUTHERN and YORKSHIRE - 7.30pm

Motor-racing has hazards off the track as well as on, as Brett and Danny discover when Brett receives macabre threats to his life after entering his new car for a race.
The English seaside resort of Brighton has more than health-giving ozone for Danny Wilde (TONY CURTIS) and Lord Brett Sinclair (ROGER MOORE). It has night life as well and Danny finds himself doing remarkably well at the roulette tables of a local club. He even tries to lose, just to show how Lady Luck is with him, but still wins.
Ryker, the club manager (ED DEVEREAUX), doesn't appear to be worrying at the vast sums Danny is winning - but he is definitely put out when, just as Danny and Brett are leaving, a man named Rupert Heather (DUDLEY FOSTER) arrives, apologises for being late and identifies himself with codewords.
Danny, it seems has quite accidentally used those codewords on his arrival and has thus been accepted as Heather. And Heather is a Communistic network paymaster. Danny has not only collected the money which is to be paid to the key agents but is jeopardising the entire network.
All of which accounts for the bewildering events that follow. It seems very nice for Danny when approached by an extremely beautiful girl named Lyn Ashford (CYD HAYMAN), though this isn't her real name, who gives him a mysterious list of names. She is Heather's contact. Unfortunately, the security is such that members of the network are all complete strangers to one another, so Heather is faced with the task of trying to find Lyn through Danny.
Brett is inevitably involved and it's not long before he and Danny realise that they are unpopular with a lot of people. Efforts are made to blow Danny to smithereens.
British Intelligence in the shape of Sir Maxwell Dean (RICHARD VERNON) is frustrated because Danny has ruined everything for him just as he was on the point of discovering the paymaster's identity and breaking the network.
Some extremely uncomfortable things happen to both Brett and Danny, though the latter has the pleasure of the exciting Lyn's company as she conducts him to the rendezvous, which is apparently located near Brighton Central Station. It is only when Brett remembers the list of names Lyn handed to Danny that their significance becomes clear. They are the names of railway stations. And Danny is already travelling on the West of England train from Brighton, trying desperately to avoid revealing his real identity.
--------------------------------------------------------------------
THE PERSUADERS!
DEVISED AND PRODUCED BY ROBERT S. BAKER
"The Persuaders!" theme by JOHN BARRY
Music composed and conducted by KEN THORNE
Musical Supervision by DON KIRSHNER
In charge of Production - JOHNNY GOODMAN
Story Consultant & Associate Producer - TERRY NATION
Director of Photography - TONY SPRATLING
Production Manager - MALCOLM CHRISTOPHER
Art Director - HARRY POTTLE
Editor - BERT RULE G.B.F.E.
Made on location and at Pinewood Studios, London, England.
Lord Sinclair's clothes designed by Roger Moore.
Assistant Director - PETER PRICE
Location Manager - ARNOLD ROSS
Camera Operator - JIMMY DEVIS
Set Dresser - KEN TAIT
Continuity - DORIS MARTIN
Production Secretary - ANN M. PATERSON
Sound Recordist - CLAUDE HITCHCOCK
Dubbing Editor - JIM SIBLEY G.B.F.E.
Dubbing Mixer - TED KARNON
Music Editor - DEVERIL GOODMAN
Make-Up - GERRY FLETCHER
Hairdressing - MIKE JONES
Wardrobe Supervisor - JOHNNY BRIGGS
A TELEVISION REPORTERS INTERNATIONAL
TRIBUNE PRODUCTION
for ITC WORLD WIDE DISTRIBUTION
© INCORPORATED TELEVISION CO. LTD MCMLXXI