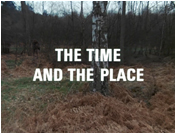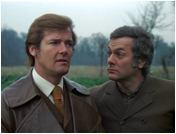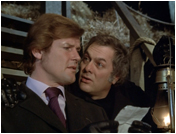 Cast
Tony Curtis
DANNY WILDE
Roger Moore
LORD BRETT SINCLAIR
Ian Hendry
LORD CROXLEY
Anna Palk
MARIE
Patrick O'Connell
RYDER
Robert Flemyng
SIR GEORGE
David Rees
T.V. INTERVIEWER
Basil Dignam
PRIME MINISTER
Duncan Lamont
MARSDEN
Campbell Singer
PORTER
Geoffrey Toone
THE GENERAL
Olga Lowe
TRAFFIC WARDEN
Uncredited cast
Max Faulkner
RICHARD TEED
David Lodge
THOMPSON
Tom Gill
LORD CROXLEY'S BUTLER
Harry Fielder
CLAY PIGEON OPERATOR
Alan Johns
POLICEMAN AT ACCIDENT
Val Musetti
FAKE POLICEMAN
Michael Nightingale
COALITION CLUB MEMBER 1
Howard Lang
COALITION CLUB MEMBER 2
Cliff Diggins
CROXLEY'S WAITER 1



THE TIME AND THE PLACE

Screenplay by MICHAEL PERTWEE
Directed by ROGER MOORE
"We have lived in a society for too long that permits, even condones, violence. We must again establish the rule of Law."
UK TRANSMISSION DATES:
Thursday 21st October 1971 - GRANADA and ANGLIA - 8pm
Friday 22nd October 1971 - ATV Midlands, HTV, LONDON, SOUTHERN and YORKSHIRE - 7.30pm

Murder in a country wood, a pretty but evasive girl, political drama and sensation in a television studio add up to dangerous excitement for Danny and Brett.
The damsel in distress is a very pretty girl named Marie (ANNA PALK). The Sir Galahads are Lord Brett Sinclair (ROGER MOORE) and Danny Wilde (TONY CURTIS), driving along a country road when they spot the damsel standing by the side of her car, which appears to have broken down. Marie, though, makes it clear that their attentions are unwelcome, and just as she is turning her attractive back on them a scream rings out from nearby woods.
Danny rushes into the woods and sees the dead body of a man. But by the time he has gone off to fetch Brett and returned to the spot, the body has disappeared. So has Marie.
Caught trespassing by a game-keeper (DAVID LODGE), Danny and Brett are marched off at gun-point to the house, the owner of which turns out to be Lord Croxley (IAN HENDRY). As it happens, he and Brett are old acquaintances. Croxley makes them welcome but apologises for leaving them for a few minutes while he sees off a visitor, a political journalist named Teed.
There is still no trace of a body on Croxley's estate but when driving away Danny and Brett reach the scene of an accident. The dead "driver" was Teed....and Danny recognises him as the dead man he has seen in the woods.
The obvious inference is that Teed has been murdered. But why? The boys, determined to get to the bottom of the mystery, discover that he was following up a story he had stumbled across but without telling anyone what it was all about. The next step in the mystery is when Marie contacts Brett and tells him not to interfere in things which don't concern him.
In the meantime, Danny goes to Teed's apartment, posing as a Police Inspector, but all he finds of interest is a crumpled piece of carbon paper before two other men arrive and introduce themselves as police officers. But they turn out to be phoneys as well, as Danny discovers when they haul him off ostensibly to take him to the police station but, in fact, to abduct him to a lonely farm where, in the barn, he again comes face to face with the mysterious Marie.
But Brett is on their trail. Danny is rescued and the piece of carbon paper provides a clue which takes them to a club where, in turn, they find an invitation to a TV studio for an interview show. And a conversation they over-hear, with Lord Croxley as the central figure, provides them with the secret the dead Teed must have learned. A political coup is planned. The Prime Minister's life is in danger and a sensational TV broadcast is soon to begin.
--------------------------------------------------------------------
THE PERSUADERS!
DEVISED AND PRODUCED BY ROBERT S. BAKER
"The Persuaders!" theme by JOHN BARRY
Music composed and conducted by KEN THORNE
Musical Supervision by DON KIRSHNER
In charge of Production - JOHNNY GOODMAN
Story Consultant & Associate Producer - TERRY NATION
Director of Photography - TONY SPRATLING
Production Manager - MALCOLM CHRISTOPHER
Art Director - HARRY POTTLE
Editor - PETER PITT G.B.F.E.
Made on location and at Pinewood Studios, London, England.
Lord Sinclair's clothes designed by Roger Moore.
Assistant Director - PETER PRICE
Location Manager - ARNOLD ROSS
Camera Operator - JIMMY DEVIS
Set Dresser - KEN TAIT
Continuity - DORIS MARTIN
Production Secretary - ANN M. PATERSON
Sound Recordist - CLAUDE HITCHCOCK
Dubbing Editor - JIM SIBLEY G.B.F.E.
Dubbing Mixer - TED KARNON
Music Editor - DEVERIL GOODMAN
Make-Up - GERRY FLETCHER
Hairdressing - MIKE JONES
Wardrobe Supervisor - JOHNNY BRIGGS
A TELEVISION REPORTERS INTERNATIONAL
TRIBUNE PRODUCTION
for ITC WORLD WIDE DISTRIBUTION
© INCORPORATED TELEVISION CO. LTD MCMLXXI