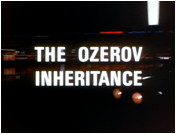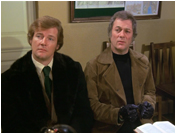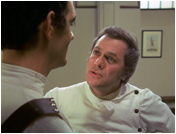 Cast
Tony Curtis
DANNY WILDE
Roger Moore
LORD BRETT SINCLAIR
Gladys Cooper
GRAND DUCHESS OZEROV
Prunella Ransome
PRINCESS ALEXANDRA
Gary Raymond
SERGEI
Joseph Furst
YELKER
Geogina Simpson
MAGDA
Timothy Parkes
WALTHER
Denys Peek
DANTE
Raymond Young
INSPECTOR MANSOUR
Cyril Shaps
PROFESSOR GANGUIN
Anouska Hempel
STEWARDESS
Arnold Ridley
UNCLE RODNEY
Yuri Horienko
NIKOLAI
Uncredited cast
Alf Costa
POLICEMAN IN OFFICE
Joe Dunn
PLAIN CLOTHES POLICE SERGEANT

THE OZEROV INHERITANCE

Screenplay by HARRY W. JUNKIN
Directed by ROY WARD BAKER
"I beg to present, Brett Rupert George Robert Andrew Sinclair,
Earl of Marnock... and Mr Daniel Wilde"
UK TRANSMISSION DATES:
Thursday 11th February 1972 - GRANADA and ANGLIA - 8pm
Friday 12th February 1972 - ATV Midlands, HTV, LONDON, SOUTHERN and YORKSHIRE - 7.30pm

Echoes of Imperialistic Russia are rung out for Danny and Brett when a Grand Duchess seeks their help in establishing her right to a collection of jewels.
The Grand Duchess Ozerov (GLADYS COOPER) is elderly, frail but still full of fighting spirit, living in a Swiss chateau which still has signs of splendour, though faded. Like so many White Russians, her attempts to preserve something of the past have a somewhat pathetic but corageous air. But both Lord Brett Sinclair (ROGER MOORE) and Danny Wilde (TONY CURTIS) respond immediately to her charm and dignity when they meet her - and respond even more warmly to her lovely granddaughter, Princess Alexandra Ozerov (PRUNELLA RANSOME), when she introduces them.
The meeting has been arranged by the Grand Duchess herself through a request sent to Brett, whose family she has known in the past. She needs help. Her jewels, which are in a Swiss bank, are to be the subject of a court action to decide on their real ownership. The other claimants are the Russian Government and her nephew Sergei (GARY RAYMOND).
Her only hope lies in her being able to provide proof of marriage to Prince Ozerov. The wedding, she says, took place in a small viallage while escaping during the Revolution. The village was destroyed and with it, all records. And the Prince was killed ten days later in an ambush.
Evidence on her behalf, she hopes, will be given by an historian named Ganguin (CYRIL SHAPS), but he is murdered on his way to the chateau. His killers are two men who have been helping him in his researches, Walther (TIMOTHY PARKES) and Dante (DENYS PEEK).
Searching the dead man's rooms, Brett finds a book written by his aged Uncle Rodney (ARNOLD RIDLEY) in which he refers to the village the Grand Duchess has mentioned. The dates coincide. When he goes to see Uncle Rodney, Brett is given access to the diaries which will provide the proof the Grand Duchess needs, but every effort is made by Walther and Dante to prevent this reaching her - efforts which include attacks on Brett and Danny. But the boys keep one step ahead and establish the fact that Sergei is the real villain of the piece, with Walther and Dante as his henchmen, forced into contesting the ownership of the jewels because he and the banker have sold them. Those now at the bank are paste.
A long court action is Sergei's only hope of keeping the secret. The Grand Duchess cannot live for many more years.
But why has the Duchess retained them and not sold them? It is the answer to this question which provides Danny and Brett with their major surprise.
--------------------------------------------------------------------
THE PERSUADERS!
DEVISED AND PRODUCED BY ROBERT S. BAKER
"The Persuaders!" theme by JOHN BARRY
Music composed and conducted by KEN THORNE
Musical Supervision by DON KIRSHNER
In charge of Production - JOHNNY GOODMAN
Story Consultant & Associate Producer - TERRY NATION
Director of Photography - TONY SPRATLING
Production Manager - MALCOLM CHRISTOPHER
Art Director - HARRY POTTLE
Editor - BERT RULE G.B.F.E.
Made on location and at Pinewood Studios, London, England.
Lord Sinclair's clothes designed by Roger Moore.
Assistant Director - PETER PRICE
Location Manager - ARNOLD ROSS
Camera Operator - JIMMY DEVIS
Set Dresser - KEN TAIT
Continuity - DORIS MARTIN
Production Secretary - ANN M. PATERSON
Sound Recordist - CLAUDE HITCHCOCK
Dubbing Editor - JIM SIBLEY G.B.F.E.
Dubbing Mixer - TED KARNON
Music Editor - DEVERIL GOODMAN
Make-Up - GERRY FLETCHER
Hairdressing - MIKE JONES
Wardrobe Supervisor - JOHNNY BRIGGS
A TELEVISION REPORTERS INTERNATIONAL
TRIBUNE PRODUCTION
for ITC WORLD WIDE DISTRIBUTION
© INCORPORATED TELEVISION CO. LTD MCMLXX