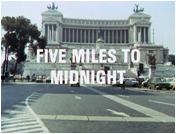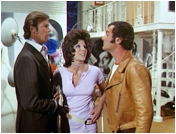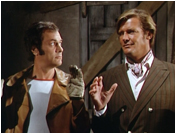 Cast
Tony Curtis
DANNY WILDE
Roger Moore
LORD BRETT SINCLAIR
Laurence Naismith
JUDGE FULTON
Joan Collins
SIDONIE
Robert Hutton
FRANK ROCCO
Robert Rietty
TORINO
Ferdy Mayne
SANGALLO
Jean Marsh
NICOLA
Arnold Diamond
BRUSATI
Ian Thompson
VASILE
Robert Galico
MANNY HOWARD
Uncredited cast
Les Crawford
ITALIAN POLICEMAN 1
Harry Fielder
ITALIAN POLICEMAN 2
Maxie Craig
ITALIAN POLICEMAN 3
Len Piper
ITALIAN POLICEMAN 4

FIVE MILES TO MIDNIGHT

Screenplay by TERRY NATION
Directed by VAL GUEST
"I do all the worrying, all the thinking - all you have to do is take the risks"
UK TRANSMISSION DATES:
Thursday 7th January 1972 - GRANADA and ANGLIA - 8pm
Friday 8th January 1972 - ATV Midlands, HTV, LONDON, SOUTHERN and YORKSHIRE - 7.30pm

Smuggling an American gangster out of Italy is no joy ride for Brett and Danny, despite the assistance of a glamorous girl photographer.
The killing of an Italian underworld boss named Gino Franco detonates a havoc-ahead explosion for Brett Sinclair (ROGER MOORE) and Danny Wilde (TONY CURTIS). The assassin is Frank Rocco (ROBERT HUTTON), a New York gangster who is sitting safely in Rome to avoid a tax evasion charge awaiting him back in the States. Now he is on the run again.
There is one way out for him. He promises U.S. authorities that if they save him and reduce his sentence, he will lift the lid on an East Coast crime syndicate.
The U.S. authorities agree, and Brett and Danny find themselves with another assignment from Judge Fulton (LAURENCE NAISMITH), who wins their reluctant co-operation when he tells them that if they get Rocco back to America, it will be the biggest breakthrough ever made against organised crime.
So Danny sets off with Rocco hidden under a tarpaulin in an old truck owned by Sidonie (JOAN COLLINS), a beautiful girl photographer who smells a great scoop here and insists on accompanying them. Brett follows in his car, creating a dramatic diversion at a police checkpoint, which enables Danny to drive Rocco off in a different direction.
Unnoticed in the melee, a car starts silently after Brett. It carries Torino (ROBERT RIETTY), a big-time Italian mobster, bent on vendetta.
When Brett catches up with Danny and his passengers, they abandon the truck because the police now know the number, and make their way on foot. Reaching an imposing villa, they tell the owner, Sangallo (FERDY MAYNE), that their car has broken down, and he invites them to dinner. They've chosen their host unwisely. He later locks them in, calls Torino, and they find themselves surrounded. Their escape has a melodramatic note, but is successful and they wind up a mountain road with Torino and his henchmen in close pursuit. Ahead - a police block. But they get through, on foot, bicycles and an old farm truck, and have only five miles to go to the border when Sidonie spots the sinister convoy of gangster cars.
Brett sends Sidonie and Rocco into the bushes and drives on as a decoy with Danny. But Torino catches up with them. It's not quite the end of the trail, though. There's a big surprise for Torino and an even bigger surprise for Brett and Danny.
--------------------------------------------------------------------
THE PERSUADERS!
DEVISED AND PRODUCED BY ROBERT S. BAKER
"The Persuaders!" theme by JOHN BARRY
Music composed and conducted by KEN THORNE
Musical Supervision by DON KIRSHNER
In charge of Production - JOHNNY GOODMAN
Story Consultant & Associate Producer - TERRY NATION
Co Story Consultant - MILTON S. GELMAN
Director of Photography - TONY SPRATLING
Production Manager - MALCOLM CHRISTOPHER
Art Director - CHARLES BISHOP
Editor - BERT RULE, G.B.F.E.
Made on location and at Pinewood Studios, London, England.
Lord Sinclair's clothes designed by Roger Moore.
Assistant Director - PETER PRICE
Location Manager - ARNOLD ROSS
Camera Operator - JIMMY DEVIS
Set Dresser - KEN TAIT
Continuity - DORIS MARTIN
Production Secretary - ANN M. PATERSON
Sound Recordist - CLAUDE HITCHCOCK
Dubbing Editor - JIM SIBLEY G.B.F.E.
Dubbing Mixer - TED KARNON
Music Editor - DEVERIL GOODMAN
Make-Up - GERRY FLETCHER
Hairdressing - MIKE JONES
Wardrobe Supervisor - JOHNNY BRIGGS
A TELEVISION REPORTERS INTERNATIONAL
TRIBUNE PRODUCTION
for ITC WORLD WIDE DISTRIBUTION
© INCORPORATED TELEVISION CO. LTD MCMLXX