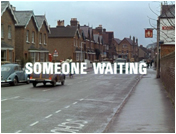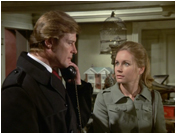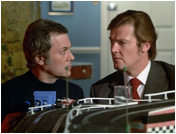 Cast
Tony Curtis
DANNY WILDE
Roger Moore
LORD BRETT SINCLAIR
Penelope Horner
CARRIE BOWMAN
John Cairney
THE JENKINS BROTHERS
Donald Pickering
MORLEY LYNDON
Lois Maxwell
LOUISE CORNELL
Maxwell Shaw
VINE
Tim Barrett
JOHN RADCLIFFE
Sam Kydd
DWYER
David Neal
JERRY SANDFORD
Jenny Hanley
MAGDA
Sean Lynch
YATES
Helena Ross
JOE
Russ Henderson
SAM
Uncredited cast
Del Baker
VINE'S THUG 1
Max Faulkner
VINE'S THUG 2

SOMEONE WAITING

Screenplay by TERRY NATION
Directed by PETER MEDAK
"Enjoy what's left of your life. It ends before Saturday."
UK TRANSMISSION DATES:
Thursday 25th February 1972 - GRANADA and ANGLIA - 8pm
Friday 26th February 1972 - ATV Midlands, HTV, LONDON, SOUTHERN and YORKSHIRE - 7.30pm

Motor-racing has hazards off the track as well as on, as Brett and Danny discover when Brett receives macabre threats to his life after entering his new car for a race.
Car-racing is one pastime enjoyed by Lord Brett Sinclair (ROGER MOORE) and his latest Sinclair Special has the promise of being a world-beater. But why should someone be trying to frighten him off?
Danny Wilde (TONY CURTIS) becomes his self-appointed protector when one strange event after another takes place - an attempt to run Brett down, macabre notes warning him that his life will end before Saturday, a grotesque model figure with his photo stuck on the face left in a cardboard coffin for him to find and other spine-chilling threats.
Brett overcomes the intruder in his london apartment, a man named Lyndon (DONALD PICKERING), who admits that he has been paid to beat him up, but he doesn't know the identity fo the man responsible. Brett offers him more money to find out and Lyndon later comes up with an address he suggests Brett should visit.
Meanwhile, Danny has made the interesting discovery that someone is bribing other drivers inthe big race to sell the race and Brett himself is approached by a man who says his name is Vine (MAXWELL SHAW).
Brett goes to the address Lyndon has given him and finds the informant dead. While there, he is joined by a girl reporter, Carrie Bowman (PENELOPE HORNER), who says her editor has told her to follow him because of a tip-off that someone is paying out a lot of money to fix the race. To Brett's astonishment, she tells him that all the information points to Danny Wilde being the man who is trying to do the fixing.
These rumours about the innocent Danny add to the mystery. One possible clue is found when Brett accompanies Carrie to her office and examines newspaper files which remind him that, four years ago, a driver named Jenkins had been trying to pass him in a race when he skidded and was so badly burned that he never raced again. Nothing has been heard of him since. Can his crazed mind be planning what he considers to be revenge?
An arson attempt to wreck the Sinclair Special fails, but the man responsible admits to Danny that he was acting on behalf of Vine.
Danny decides that it is time to have another talk with Vine and beats the information out of him that the head of the fixing gang is a woman, Louise Cornell (LOIS MAXWELL), who admits that she and her colleagues are trying to bring gangster methods into motor-racing, but she denies emphatically that any threats have been made against Brett's life.
So who is responsible? Can it be Jenkins (JOHN CAIRNEY) after all? But when Jenkins is traced, he is mentally and physically incapacitated, obviously unable to take any sort of action...
--------------------------------------------------------------------
THE PERSUADERS!
DEVISED AND PRODUCED BY ROBERT S. BAKER
"The Persuaders!" theme by JOHN BARRY
Music composed and conducted by KEN THORNE
Musical Supervision by DON KIRSHNER
In charge of Production - JOHNNY GOODMAN
Story Consultant & Associate Producer - TERRY NATION
Director of Photography - TONY SPRATLING
Production Manager - MALCOLM CHRISTOPHER
Art Director - HARRY POTTLE
Editor - PETER PITT G.B.F.E.
Made on location and at Pinewood Studios, London, England.
Lord Sinclair's clothes designed by Roger Moore.
Assistant Director - PETER PRICE
Location Manager - ARNOLD ROSS
Camera Operator - JIMMY DEVIS
Set Dresser - KEN TAIT
Continuity - DORIS MARTIN
Production Secretary - ANN M. PATERSON
Sound Recordist - CLAUDE HITCHCOCK
Dubbing Editor - JIM SIBLEY G.B.F.E.
Dubbing Mixer - TED KARNON
Music Editor - DEVERIL GOODMAN
Make-Up - GERRY FLETCHER
Hairdressing - MIKE JONES
Wardrobe Supervisor - JOHNNY BRIGGS
A TELEVISION REPORTERS INTERNATIONAL
TRIBUNE PRODUCTION
for ITC WORLD WIDE DISTRIBUTION
© INCORPORATED TELEVISION CO. LTD MCMLXXI