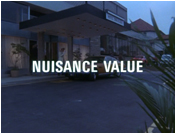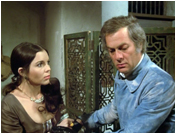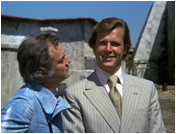 Cast
Tony Curtis
DANNY WILDE
Roger Moore
LORD BRETT SINCLAIR
Viviane Ventura
LISA ZORAKIN
George Murcell
ZORAKIN
Sarah Lawson
MARY
Ralph Bates
MICHEL
Michael Culver
KURT
David Cargill
PATTERSON
Ricardo Montez
INSPECTOR SANTOS
Clive Cazes
MATRA
George Roderick
BODEGA LANDLORD
Uncredited cast
Derek Chaffer
HOTEL MAN
Romo Gorrara
ZORAKIN'S HEAVY 1
Peter Braham
ZORAKIN'S HEAVY 2
Alan Meecham
SPANISH POLICEMAN

NUISANCE VALUE

Screenplay by DAVID ROLFE AND TONY BARWICK
Directed by LESLIE NORMAN
"I expect you back here at midnight, with Lisa, or there'll be a lot of trigger-happy people looking for you"
UK TRANSMISSION DATES:
Thursday 14th January 1972 - GRANADA and ANGLIA - 8pm
Friday 15th January 1972 - ATV Midlands, HTV, LONDON, SOUTHERN and YORKSHIRE - 7.30pm

The dangers of helping a damsel in distress are high-lighted for Danny and Brett when their efforts lead to their being accused of kidnapping her!
Danny Wilde (TONY CURTIS) doesn't really stand much of a chance with the exotic Lisa (VIVIANE VENTURA), spoiled daughter of the immensely wealthy Mr. Zorakin (GEORGE MURCELL), when he dates her at a Spanish hotel. She is very much in love with Michel (RALPH BATES), a young man of whom her father strongly disapproves. Nevertheless, Danny is going to spend the evening with her and has arranged a blind date for Brett Sinclair (ROGER MOORE) with her plain, long-suffering companion Mary (SARAH LAWSON).
But the date isn't kept. Lisa is audaciously kidnapped, despite Danny's desperate efforts to prevent her being whisked off in a car. He gives chase without knowing that her abductors are Michel and his companion Kurt (MICHAEL CULVER).
It is not long before Zorakin is on the scene, taking charge of the proceedings and ordering Danny to be picked up. Zorakin is convinced that Danny is behind the plot because he had lost a great deal of money recently in a business transaction with him. When a ransom note arrives, Zorakin instructs that arrangements for the money shall be made immediately, plus an additional $100,000 for the man who will kill Danny. It's a high-priced contact for Danny:
Meanwhile, Danny has tracked Lisa and her captors to a remote cottage but has been overpowered. He has also learned that Lisa is a very willing "victim". This is one way she and Michel can get money out of her father which will enable them to flee the country together.
Brett argues with Zorakin, who agrees to give him time to get Lisa back and prove Danny's innocence. Brett keeps the rendezvous with the abductors but hides the money, only to find that Lisa is a tempestuous spitfire who certainly doesn't want to be rescued. He has a certain amount of sympathy with her, but when he persuades her to talk to her father on the 'phone, she double-crosses them by telling Zorakin that Danny Wilde planned everything!
Both Danny and Brett are now very much on the spot. It's an impossible task to cope with a fiery beauty like Lisa, let alone her determined companions. But there are nasty surprises ahead for Lisa when her chaperone Mary unexpectedly arrives on the scene...
--------------------------------------------------------------------
THE PERSUADERS!
DEVISED AND PRODUCED BY ROBERT S. BAKER
"The Persuaders!" theme by JOHN BARRY
Music composed and conducted by KEN THORNE
Musical Supervision by DON KIRSHNER
In charge of Production - JOHNNY GOODMAN
Story Consultant & Associate Producer - TERRY NATION
Director of Photography - TONY SPRATLING
Production Manager - MALCOLM CHRISTOPHER
Art Director - HARRY POTTLE
Editor - BERT RULE G.B.F.E.
Made on location and at Pinewood Studios, London, England.
Lord Sinclair's clothes designed by Roger Moore.
Assistant Director - FRANK ERNST
Location Manager - ARNOLD ROSS
Camera Operator - JIMMY DEVIS
Set Dresser - KEN TAIT
Continuity - DORIS MARTIN
Production Secretary - ANN M. PATERSON
Sound Recordist - CLAUDE HITCHCOCK
Dubbing Editor - JIM SIBLEY G.B.F.E.
Dubbing Mixer - TED KARNON
Music Editor - DEVERIL GOODMAN
Make-Up - GERRY FLETCHER
Hairdressing - MIKE JONES
Wardrobe Supervisor - JOHNNY BRIGGS
A TELEVISION REPORTERS INTERNATIONAL
TRIBUNE PRODUCTION
for ITC WORLD WIDE DISTRIBUTION
© INCORPORATED TELEVISION CO. LTD MCMLXXI