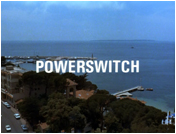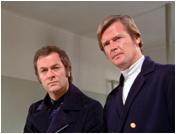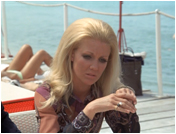 Cast
Tony Curtis
DANNY WILDE
Roger Moore
LORD BRETT SINCLAIR
Laurence Naismith
JUDGE FULTON
Annette Andre
PEKOE
Terence Alexander
CRANE
Melissa Stribling
LISA
John Phillips
KOESTLER
Lionel Blair
QUINN TRAVERS
Paul Whitsun-Jones
INSPECTOR BLANCHARD
Les Crawford
RAVEL
Vicki Woolf
RENT-A-CAR GIRL
Uncredited cast
Angela de Bona
JULIE BLAKE
Pierre Bori
MAN AT PETROL PUMP
Wendy Lampard
GIRL IN DANCING GROUP
Paula Pert
GIRL IN CLUB DANCING 1
Diana Edghill
GIRL IN CLUB DANCING 2
Pauline Field
GIRL IN CLUB DANCING 3


POWERSWITCH

Screenplay by JOHN KRUSE
Directed by BASIL DEARDEN
"It's the kind of plan I would put into motion if I were going to retire... or die"
UK TRANSMISSION DATES:
Thursday 14th October 1971 - GRANADA and ANGLIA - 8pm
Friday 15th October 1971 - ATV Midlands, HTV, LONDON, SOUTHERN and YORKSHIRE - 7.30pm

The body of a beautiful girl found floating in a Cote d'Azure bay plunges Danny and Brett into even deeper water when it is discovered that she has been murdered.
The finding of a drowned girl in a Cote d'Azure bay has sinister implications for Brett Sinclair (ROGER MOORE) and Danny Wilde (TONY CURTIS) after they have come across the body and are tricked by Judge Fulton (LAURENCE NAISMITH) into helping unravel the strange circumstances which surround the girl's death.

But they have a lovely girl to help them in their inquiries. The girl is Pekoe (ANNETTE ANDRE), friend and flatmate of the dead girl, whom she identifies as Julie Blake. When he takes her home, Brett unsuccessfully chases an intruder who has torn a photograph from Julie's "trophy book" of boy-friends, and Pekoe tells him that Julie was excited about meeting someone, and that she had hired a car.

At the same time, Danny finds a photograph of Julie with a man he recognises when he visit the club where the girls were both members of a dance troupe run by Quinn Travis (LIONEL BLAIR).

The clues they have picked up take them all to a multi-millionaire's mountain retreat, where they meet Lanning Koestler (JOHN PHILLIPS) and his wife Lisa (MELISSA STRIBLING). Koestler has to admit that he had an affair with the dead girl, but the case takes a new turn when Brett and Danny find evidence that suggests the Koestler they have met is an imposter. He has, in fact, fooled everyone except Julie. Learning the truth has cost the girl her life.

Before further action can be taken, Brett, Danny an Pekoe are trapped by Koestler's aide, Crane (TERENCE ALEXANDER). Challenged by a guess that the real Koestler is dead, Mrs. Koestler confesses that this is true and that if his death had leaked out the entire fortune would have been wrecked. The stock is being moved secretly to corporations she controls.

The imposter is a small-time actor named Morgan Alcott, who is scared when Danny tells him of a plan to kill him when the time comes to produce the real Koestler's body and declare him officially dead. Scared, Alcott releases them and the four flee together.

But Mrs. Koestler's men are a move ahead. The escape car's brakes have been bled and the doors deliberately jammed. Death seems inevitable for the four of them as the car hurtles round hairpin bends with Danny at the wheel. Miraculously, he manages to bring it to a crash stop on the brink of a death drop...but they are still locked in as Ravel (LES CRAWFORD) slams his car at their's trying to send it over the top

It requires all Danny's ingenuity to save them.
--------------------------------------------------------------------
THE PERSUADERS!
DEVISED AND PRODUCED BY ROBERT S. BAKER
"The Persuaders!" theme by JOHN BARRY
Music composed and conducted by KEN THORNE
Musical Supervision by DON KIRSHNER
In charge of Production - JOHNNY GOODMAN
Story Consultant & Associate Producer - TERRY NATION
Co Story Consultant - MILTON S. GELMAN
Director of Photography - TONY SPRATLING
Production Manager - MALCOLM CHRISTOPHER
Art Director - CHARLES BISHOP
Editor - BERT RULE, G.B.F.E.
Made on location and at Pinewood Studios, London, England.
Lord Sinclair's clothes designed by Roger Moore.
Assistant Director - PETER PRICE
Location Manager - ARNOLD ROSS
Camera Operator - JIMMY DEVIS
Set Dresser - KEN TAIT
Continuity - DORIS MARTIN
Production Secretary - ANN M. PATERSON
Sound Recordist - CLAUDE HITCHCOCK
Dubbing Editor - JIM SIBLEY G.B.F.E.
Dubbing Mixer - TED KARNON
Music Editor - DEVERIL GOODMAN
Make-Up - GERRY FLETCHER
Hairdressing - MIKE JONES
Wardrobe Supervisor - JOHNNY BRIGGS
A TELEVISION REPORTERS INTERNATIONAL
TRIBUNE PRODUCTION
for ITC WORLD WIDE DISTRIBUTION
© INCORPORATED TELEVISION CO. LTD MCMLXX